Add structure to your fixed income capabilities and make deals easier to process with LSEG's Sharia-compliant Sukuk Callouts platform, available in Eikon.
Keeping you ahead in the market
As technology has become more accessible, the focus on electronic trading has become an increasingly important part of the fixed income market landscape.
Sukuk and FI Callouts adds structure to your fixed income capabilities by making deals easier to process and by addressing operational challenges that are regularly faced in emerging markets.
Through market-wide data access, Sukuk Callouts facilitaites the negotiations and agreements of fixed income bond trading terms and addresses the immediate need to develop and grow secondary bond market trading. It delivers key features required to satisfy market needs in an efficient, reliable and scalable manner.
What you get with Sukuk Callouts
Dealing-style Workflow: Pre-trade Capabilities
The sukuk callout as part of Fixed Income (FI) callouts platform utilises and improves on familiar incoming calls, trade tickets and blotter panels. In addition, it allows callout initiator to know the best possible trading price.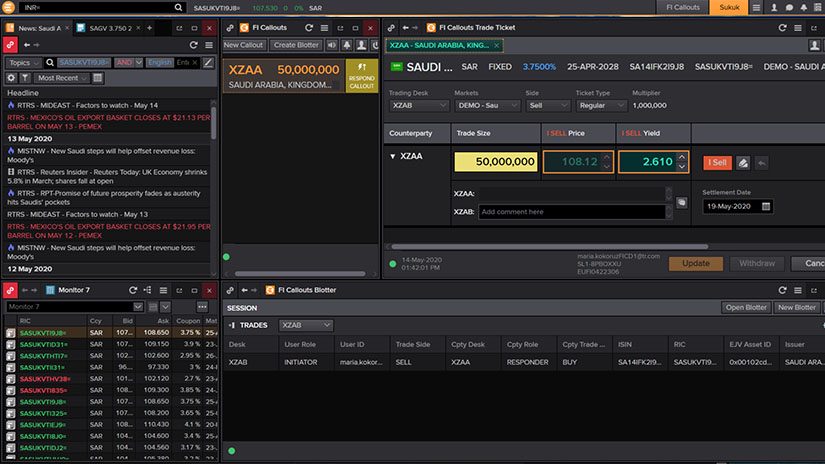 Dealing-style Workflow: Trade Solutions
Sukuk Callout replicates the benefits of one-to-many callouts and allows you call up to five trading counter-parties simultaneously. It also provides easier connectivity between price makers and price takers. It allows calling multiple counterparties, reviewing deals prior to confirming, price discovery, user friendly and real time data access.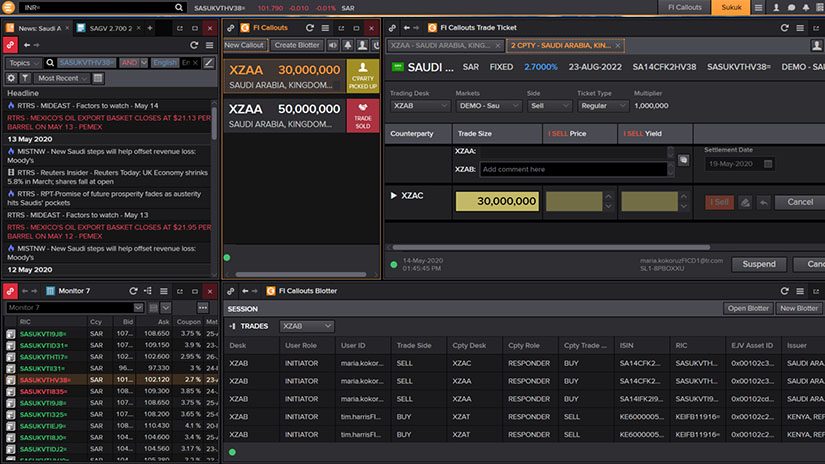 Dealing-style Workflow: Post trade Facilities
Sukuk Callout provides a host of post trade solutions that include FIX, CSV and XML delivery. In addition, it provides many features such as audit trial, retrieving historical trade data, deal audit and many others.