Access LSEG's Islamic Auction trading app, providing a real-time view of bid submissions, market surveillance, and processing capabilities.
Addressing your auction needs
Islamic Auctions combines a trading venue with a real-time view of bid submissions, market surveillance and processing capabilities.
Auctions has facilitated over a trillion dollars worth of transactions worldwide and is now used by central banks and corporates in Europe, the Middle East, Africa and Asia.
We are able to offer both a hosted and a deployed solution, addressing auction needs on data residency and minimising infrastructure costs. Support is now in place for Islamic Finance Sharia compliant auctions for both central banks and corporates.
What you get with our Islamic Auction App
Islamic auction setup
Islamic Auctions provides templates to create auctions with a few clicks, assists with managing your group of Primary Dealers and keeps them informed of the upcoming auctions, all within the app.
In addition, the feature of flexible profile management gives complete control over features available to both internal users and Primary Dealers.
Further, rules around competitive and non-competitive bid submission and bidding on behalf of investors can be applied to all or specific auctions, and to all your Primary Dealers, or a subset.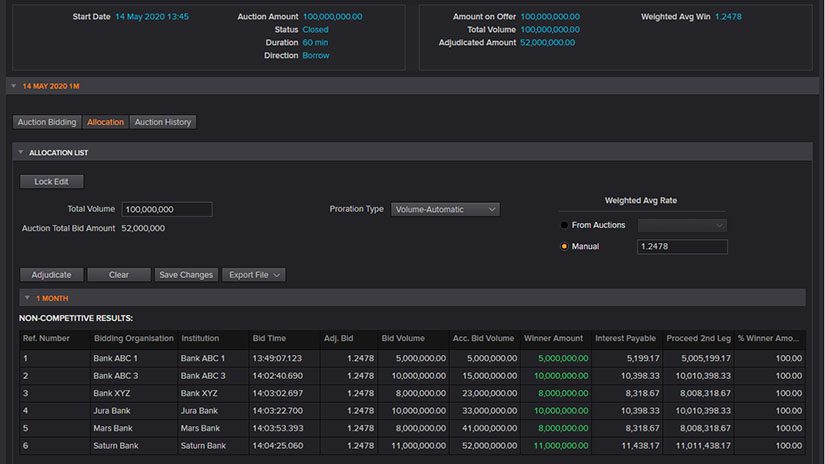 Islamic auction bidding
Islamic Auctions allows you to open and close auctions when you want, or to an automatic schedule.
The Primary Dealer community submits bids through a simple form in their view of the Eikon Auctions app. The profiles you create for your Primary Dealers dictate further bidding features, such as placing bids on behalf of Investors and amending or cancelling bids.
In addition, view auction activity from Primary Dealers in real-time, including latest bids and a full audit of their bidding history.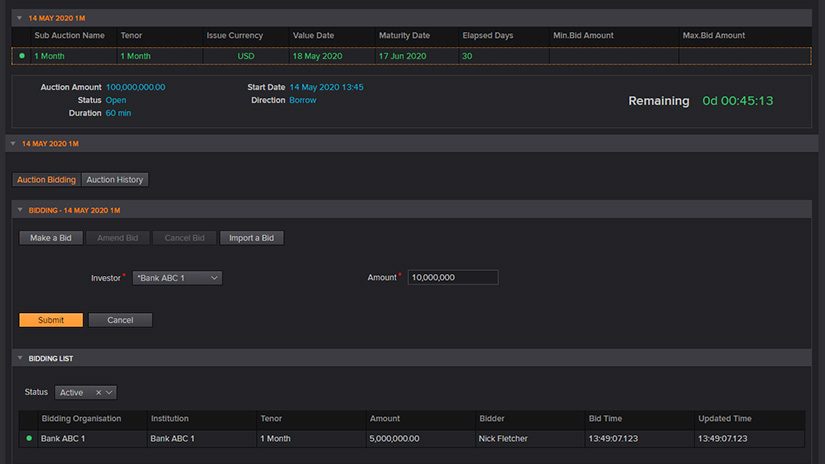 Islamic Auction Allocation
Islamic Auctions adjudicate auctions by total volume or with a cut-off rate and automatically prorate, all within the app. Export different allocation scenarios at any time before publication.
It supports in deciding which data points from the auction statistics it is preferred to share with the Counterparties once the allocated bids are published.
In addition, it takes advantage of the robust industry-standard STP service to deliver results to the back office and the auction participants.