KYC verification and customer screening platform
Simplify and accelerate your due diligence process and make remediation quicker and more intelligent. World-Check One combines our purpose-built screening software with our proprietary World-Check data.
Why choose LSEG World-Check One?
World-Check One is an essential screening platform, created to support your due diligence needs in the fight against financial crime, bribery, and corruption.
Paired with data from LSEG World-Check, our next-generation automated screening software lets you take a targeted approach to Know Your Customer (KYC) verification and third-party screening.
Accelerate and simplify compliance with regulatory obligations relating to anti-money laundering (AML) and countering the financing of terrorism (CFT) using World-Check One's purpose-built software, enabling detailed screening and monitoring of politically exposed persons (PEPs) and heightened risk individuals and entities.
Streamline your screening processes with powerful customisation and control, and a range of time-saving features for single users or large teams. Our unified World-Check One platform helps to make remediation simpler and more intelligent.
What you get with World-Check One
Focus on the information that matters most to you with powerful levels of customisation and enhanced filtering technology.
Drive efficiency using Watchlist Screening. Upload and manage internal and public third-party lists and screen alongside World-Check, in a single workflow.
Highlights the quality and robustness of our controls and infrastructure when it comes to helping our clients meet global KYC due diligence requirements, and so our commitment to best practices.
Opt-in feature to reveal any potential risks related to sanctioned or embargoed vessels by screening against IHS Maritime and World-Check data.
Identify relevant media content with Media Check, which uses intelligent searching, unique taxonomy, and machine-learning algorithms.
Optimise your workflow through a two-step process – first identifying the UBOs of entities and then screening them – all on a single platform.
See World-Check One in action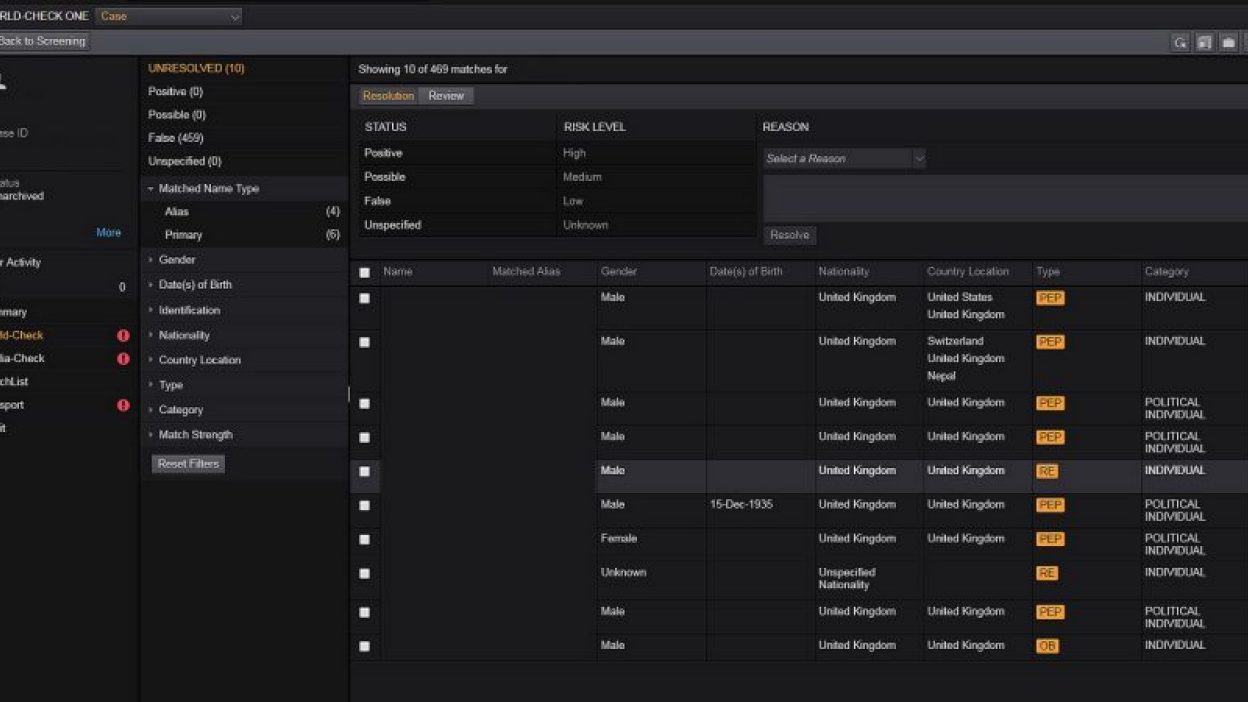 Streamline processes such as integrating large volumes of information and advanced functionalities into existing workflows and internal systems with our API.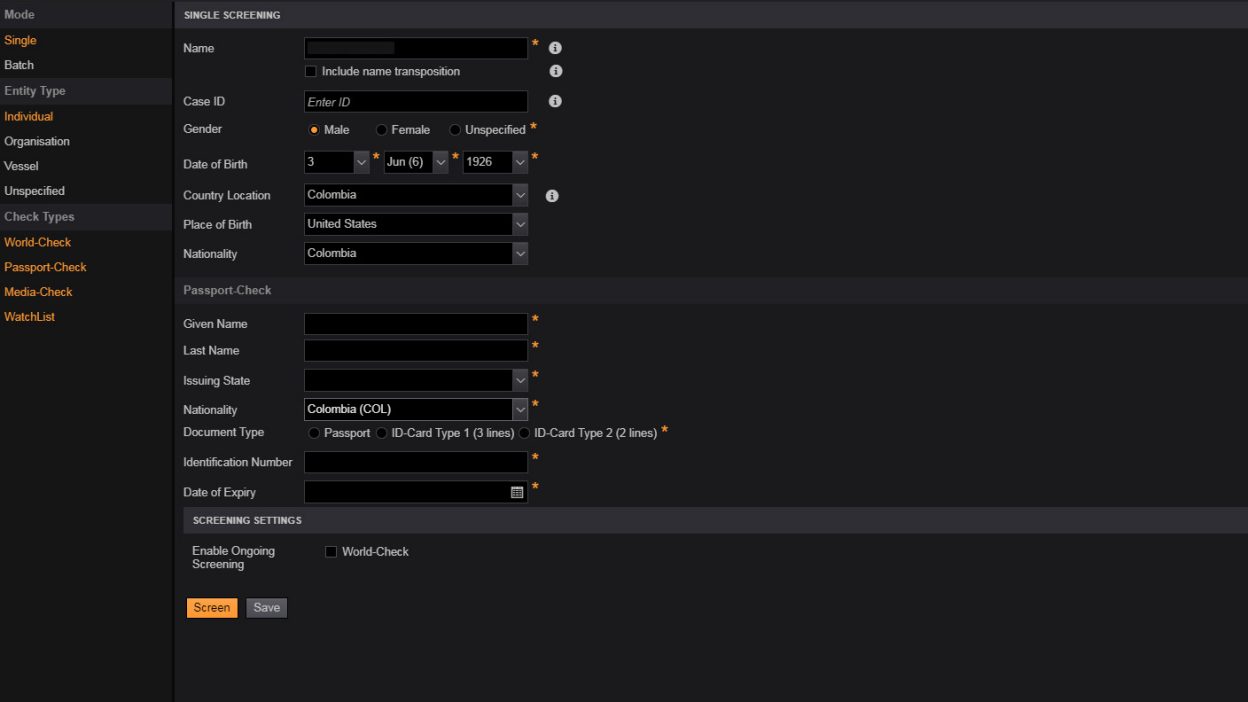 Reduce false positives to a minimum with multiple secondary identifiers in World-Check, combined with configurable name matching algorithms and filtering technology.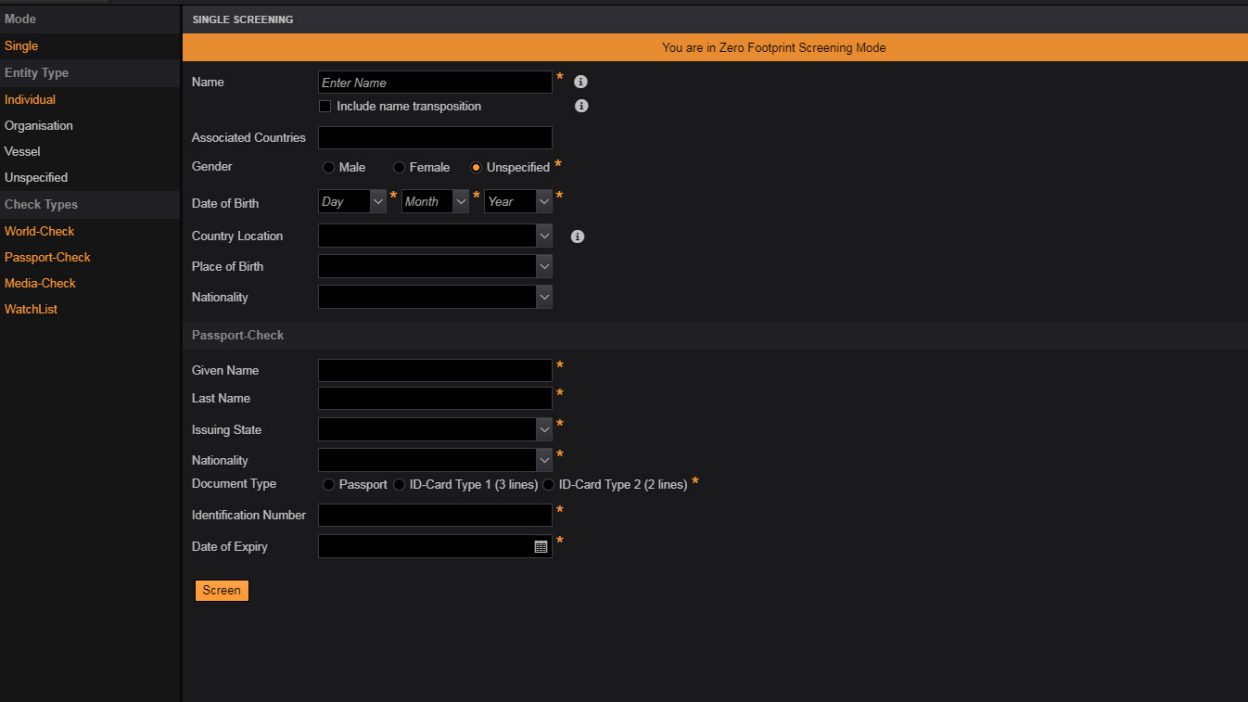 Benefit from the ability to switch off system tracking, ongoing screening, batch upload, and audit trail functions during screening to ensure no permanent record is kept.
Check out some of our awards
RegTech Insight Awards 2023 Europe
Best Solution for Sanctions Management
Regulation Asia Awards for Excellence
Best Solutions PEPs, Sanctions & Name Screening 2022
Best AML/CTF Compliance Solution 2019
Best Anti-Money Laundering Solution 2018
RegTech Insight Awards 2022 Europe
Best Solution for Sanctions Management
RegTech Insight Awards 2022 USA
Best KYC Data Solution
Central Banking FinTech RegTech Global Awards
Best Anti-Money Laundering Technology Provider in 2018
Asia Risk Awards
Technology Development of the Year in 2014
Wealth Briefing Asia Award
Best Risk Management Technology Award in 2015
GRC 20/20 Award
Award for third-party management in 2015
More ways you can use our data
Integrate World-Check data into third-party or proprietary workflow solutions that perform customer due diligence, customer screening, and/or payments screening.
Integrate our data, matching capabilities, and advanced functionalities into existing workflows and internal systems – streamlining the screening process for onboarding, Know Your Customer (KYC), and third-party risk due diligence.
Email your local sales team
Call your local sales team