Trade Discovery
Helping banks find FRTB data faster.
The Fundamental Review of the Trading Book (FRTB) introduces a liquidity test that requires banks using their own market risk models to assess trading activity associated with inputs to the models.
To pass the Risk Factor Eligibility Test (RFET), banks must source executed trade and committed quote data for the previous year, attribute the trades to individual risk factors, and check whether there is sufficient activity to pass predefined liquidity thresholds.
With opaque markets and large volumes of data to manage – passing the RFET is going to be a significant challenge for banks.
LSEG Labs created Trade Discovery, a tool that enables banks to conduct the FRTB Risk Factor Eligibility Test more efficiently and at speed.
Built on the Refinitiv Data Platform, Trade Discovery provides banks with the data required to comply with RFET, accelerating the process of conducting the test from months to seconds.
Trade Discovery provides around 40 million processed observations across 3 million instruments covering rates, credit, FX and equities in multiple jurisdictions. A consistent data model captures the instrument terms and conditions across 60 attributes, allowing easy mapping of instruments to risk factors.

Trade Discovery in action
The prototype includes:
Access to 'real' price observation data
Observation data in a consistent data model
One observation per day for any given instrument
Ability for banks to define custom risk factor to instrument mappings
Visualisation of RFET pass and fail rates
A bulk API to download data from the Refinitiv Data Platform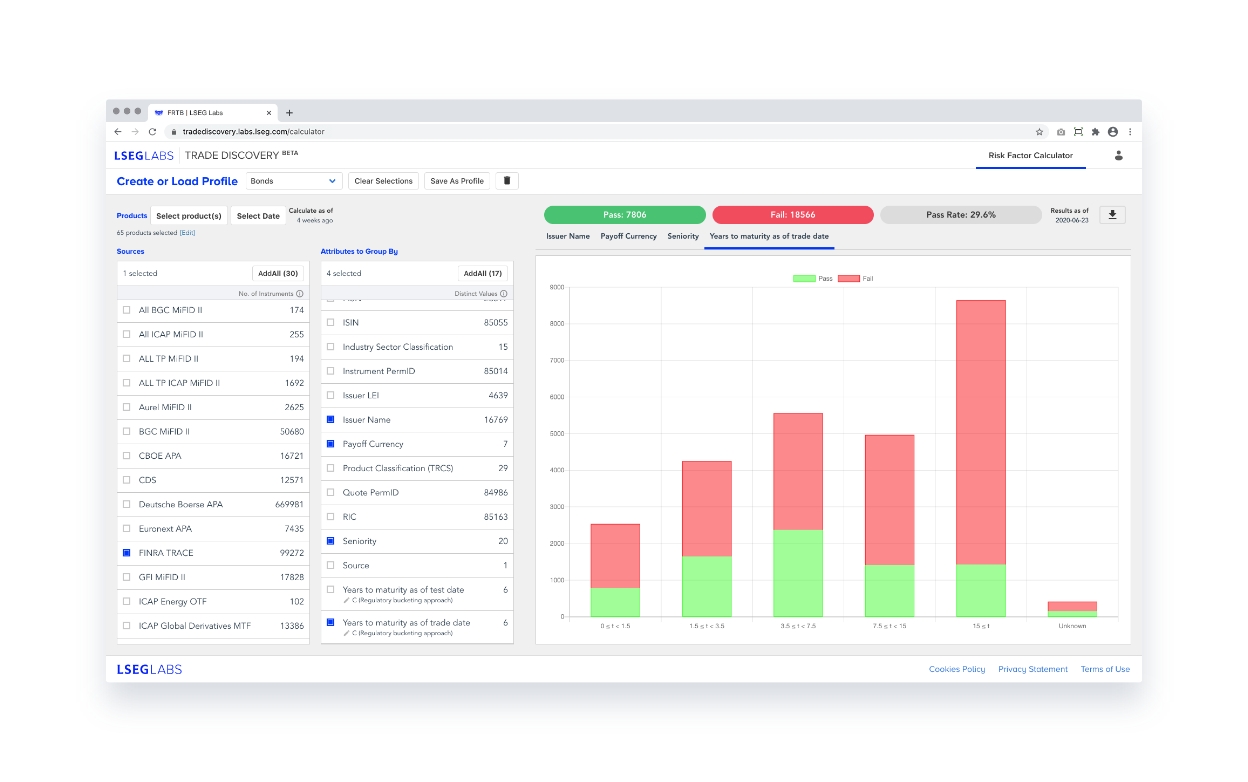 Related Content & Reports