SentiMine
An advanced discoverability tool surfacing equity performance themes in unstructured content
The buy-side spends millions of staff hours combing through unstructured text to drive asset management and investment decisions. In a 90-day period, a buy-side equity analyst covering Amazon typically receives over 200 research reports on Amazon, more than 50 company transcripts and filings, as well as hundreds of news stories and emails on the company. Amazon is likely to be just one of over 50 equities the analyst is covering – presenting a clear case of information overload.
LSEG Labs created SentiMine to do this time-intensive research and analysis for our clients, making it easier and quicker to understand and extract insights from text-heavy unstructured content.
The prototype combines natural language processing (NLP), sentiment analysis and deep learning to provide insights from thousands of unstructured research reports and company transcripts quickly and efficiently.
The SentiMine engine has been trained on 4 years of Refinitiv research reports and transcripts and covers 110 themes that affect all equities. LSEG Labs' prototype also covers 40 themes across business sectors including finance, consumer retail, telecommunications, and technology.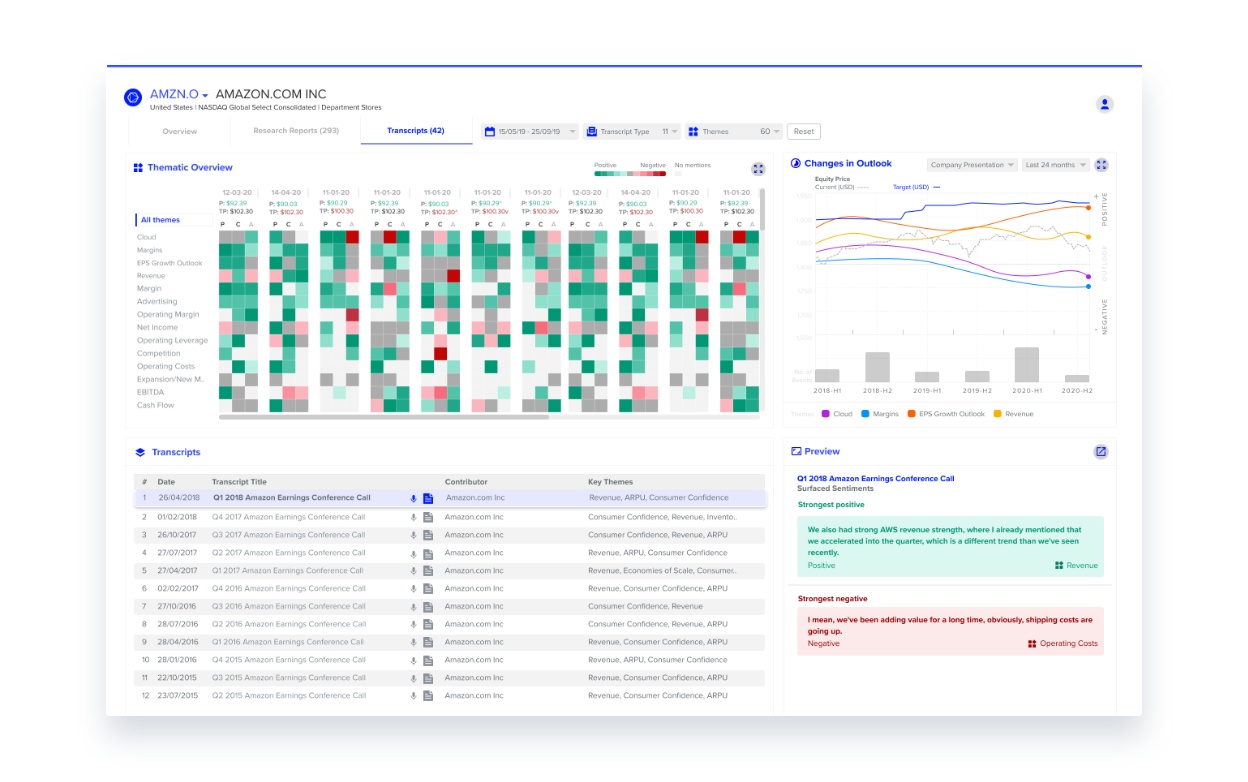 Key insights surfaced by SentiMine include:
Potential drivers of equity performance
Changes in analysts' outlooks or sentiment over time, and across themes in equity research reports
Changes in analysts' and companies' outlooks over time across themes in multiple transcripts
Contrarian analyst views in a sea of consensus views
SentiMine is well-positioned to help analysts across finance derive more value from equity research reports and reduce the time it takes to identify equity performance drivers.
LSEG Labs are also exploring the new alpha signals generated by SentiMine's theme sentiment, and how to apply SentiMine to uncover new signals in different datasets, such as Refinitiv news and filings.