Cloud-based order management and portfolio management
LSEG AlphaDesk
Simplify your workflow with LSEG AlphaDesk – the cloud-based order management system (OMS) and portfolio management system (PMS) for the buy side.
Work with flexible multi-vendor data feeds and multiple electronic trading systems, as well as custodians/prime brokers and fund administrators
Manage all your firm's orders in a single place
Track portfolio exposure in real-time with over 100 fields and flexible groupings
Stay on top wherever you are with responsive mobile access
Cloud-based order management (OMS) and portfolio management (PMS)
Bringing traders and asset managers looking to resolve their OMS and PMS requirements closer to the buy-side
LSEG AlphaDesk is an award-winning order management system (OMS) and portfolio management system (PMS) that offers cloud-based, multi-asset class, multi-currency order management and portfolio management for the buy-side, along with risk and compliance tools – all within a single user interface experience to help streamline and automate your workflow.

AlphaDesk clients typically realise annual TCO savings of 50% or more in comparison with other vendors when using our OMS and PMS.

With our order management software, we support and help automate your investment and trading workflow from start to finish, with everything from portfolio management, to pre-trade data and analytics via our financial platform Eikon, to trade execution using our award-winning LSEG REDI EMS (execution management system) and post-trade capabilities that include settlement, reconciliation and risk management.

In addition, we connect you efficiently to counterparties around the globe with LSEG Autex Trade Route – one of the world's largest FIX order routing networks.

Manage all orders in single place. Send orders to hundreds of destinations and receive fills in real-time.
Advanced multi-portfolio modelling functionality enables rebalancing in a matter of a few keystrokes.
Real-time delta- and beta-adjusted exposure, option greeks, currency, interest rate, credit and liquidity risk.
Assign rates based on parameters, and report on commission spending across brokers, categories and by fund.
Profit contribution of positions updated in real-time, separate FX P/L and asset price P/L and more.
Set up rules to verify compliance with fund mandates, internal policies and regulations. Verify compliance pre-trade.
Calculate an accurate net asset value including subscriptions, accruals and dividends.
P&L between any two dates, with support for multiple cost basis/tax lot methods and a full suite of accounting reports.
How does LSEG AlphaDesk work?
Discover an order management system (OMS) and portfolio management system (PMS) that is multi-asset class, multi-currency and multi-custodian.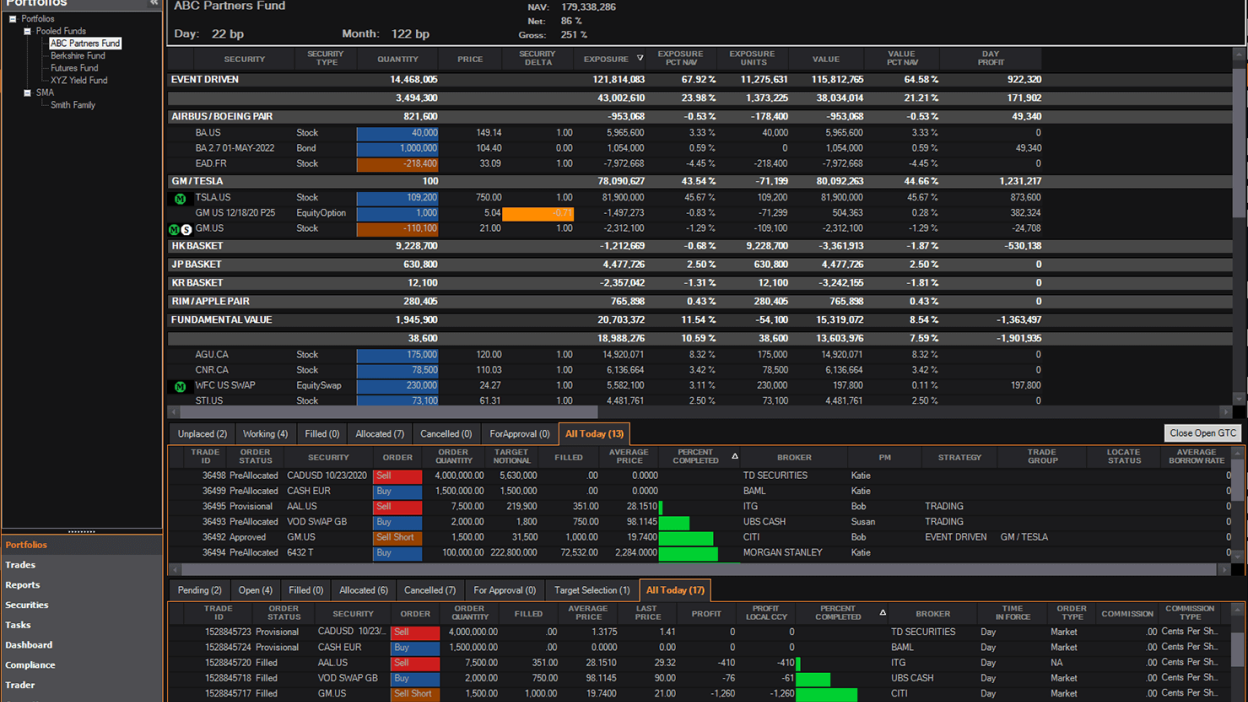 Flexible workflow functionality: A fully cloud-based integrated system that works with multi-vendor data feeds and multiple electronic trading systems, as well as custodians/prime brokers and fund administrators.
One-stop-shop: Software that manages your firm's portfolio and orders in a single place.

Real-time monitoring: Track P&L (profit and loss) exposure in real-time with a choice of over 100 fields and flexible groupings.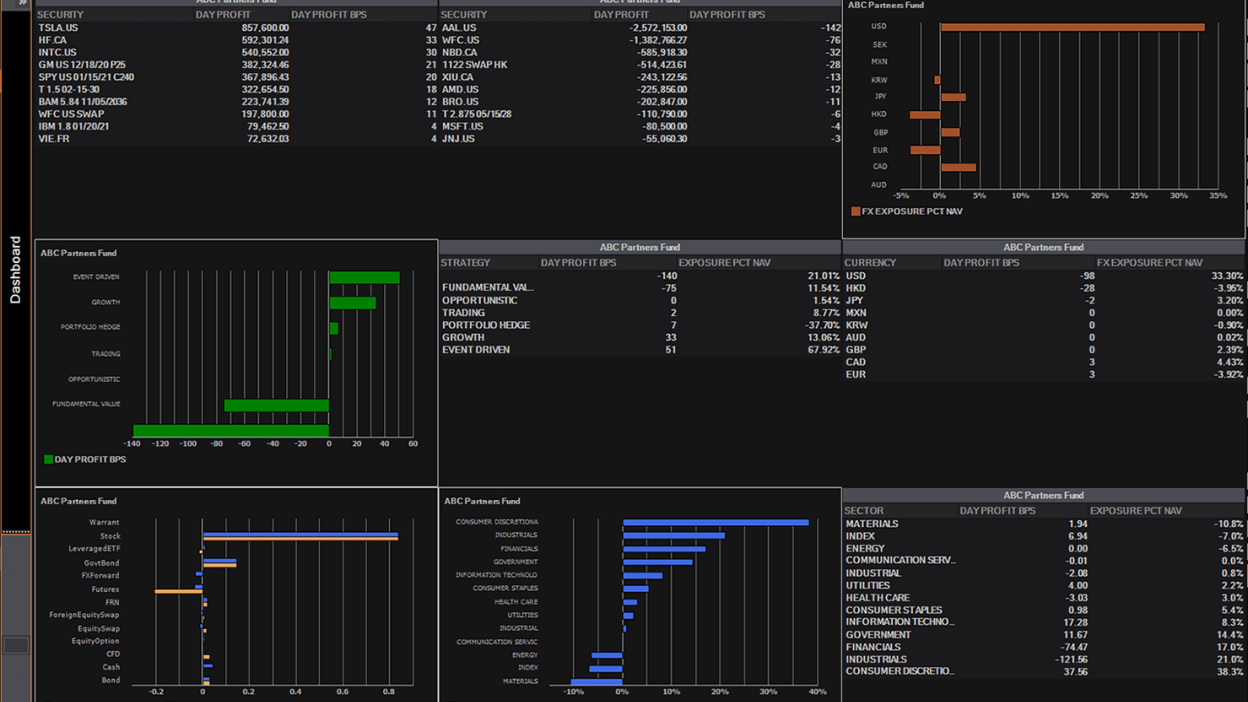 Remote capabilities: Monitor portfolios and trades from outside the office with our tablet and mobile device support.
Reliable support: Get help from our managed service support staff, who monitor your trading ecosystem, including FIX connections. Support is available 24 hours, Monday to Friday.
Access AlphaDesk anywhere with our mobile capability
Simplify your workflow management on the go.
Introducing AlphaDesk Mobile, which enables users to gain access to their real-time positions, P&L and trading without being tied to their desktop.
Learn how you can trade from anywhere, at any time, by simply logging in through the web or your mobile.
Integrated fund management for clients
AlphaDesk serves a diverse and global client base. Our clients range from start-ups to established firms and include hedge funds and asset managers looking to streamline and automate their workflow.
Our solution meets a multitude of needs – including comprehensive support for a wide range of asset classes, markets and investment strategies – yet our objective remains the same: to meet the unique needs of each firm.

Established hedge funds. We help hedge funds achieve the return they want by increasing operational efficiency, enhancing risk management and improving decision-making.

Asset managers. With AlphaDesk, you can better manage cost, complexity and reporting compliance with our customisable APIs.

Startups. Designed with startups in mind, our OMS and PMS is quick to deploy and easy to use, so you can focus on getting your operations up and running.

Integrated services assisting your business
With global market reforms and increasing regulatory pressures, firms need to update their IT organisations so that they can adapt more quickly to changing business requirements while lowering operational costs. AlphaDesk provides the experience to accomplish these objectives.
Integration services. Our integration team assists you with implementing, configuring and piloting your solution for a rapid go-live date. These services include customising the system to meet your specific working environment, resources, workflows and business goals. The implementation team also provides full training for all users of the system and will continue to assist you as you transition to general support.

Cloud services. AlphaDesk is available through a robust and secure cloud-based global infrastructure. Let us handle the daily challenges of application and infrastructure management so that you can focus on your core business objectives.

Support services. Our support team provides clients with a range of technical expertise in not only our product but also of financial markets and fund management practices. Their goal is to provide rapid resolutions to any issues you may have while maintaining a high degree of effective communication.

Middle office support. Directly, or via our global partner network, we supply an experienced team to assist you with daily operational activities such as reconciliation, or provide you with the tools they use to work with AlphaDesk to minimise effort and improve accuracy.