LSEG ESG Investment Solutions

Environmental, social, and governance (ESG) investing
LSEG ESG Investment Solutions
Build sustainability into your investment strategy with our environmental, social, and governance (ESG) investing services and solutions, covering thousands of companies.
Mitigate risks. Improve returns.
Putting ESG thinking at the heart of your investment process
Designed to help you make sound, sustainable investment decisions, our ESG investing information covers 85% of global market cap and 76 countries over 630 metrics.
We help you assess the risks – and opportunities – posed by companies' and countries' performance in critical areas, such as climate change, executive remuneration, and diversity and inclusion.
You can carry out your ESG investing research with complete confidence because every data point is rigorously quality controlled and verified to ensure that it is standardized, comparable and reliable.
Our Fund ESG Scores provide you with independent fund level scores highlighting the sustainability of particular investment funds.

As well as point-in-time and non point-in-time ESG data and scores, we offer sustainable bond information to help assess sustainable Fixed Income strategies and investments. Mapping corporate bonds to ESG data can be challenging due to bond issuance and ESG reporting typically occurring at different levels in the organisation hierarchy.
LSEG provides tools to map 660k corporate bond instruments to the closest related entity in the corporate hierarchy that has ESG statement data available.
Use our ESG Contributor Tool to upload ESG data to the LSEG ESG database to ensure thousands of investors are able to retrieve the full view of a company.

ESG Contributor Tool
Following heightened international focus on social injustice and racial inequality, we joined forces with FORTUNE to help businesses across all industries address one of the most challenging areas of our time – building a truly inclusive workplace. The goal is to make diversity disclosure a critical metric for stakeholder-driven businesses.
The FORTUNE 500 list now includes diversity and inclusion information online and users will be able to sort the F500 companies by a ranking based on their self-reported D&I data. FORTUNE has used our data to identify the top 20 Most Progressive Companies for Racial Inclusion.
Please contribute your minority group data via our ESG Data Contributor tool. To support better trend analysis, we ask for 3 years of data to be submitted. While not mandatory, it will give your company the best chance of obtaining an accurate assessment of minority group efforts, commitments and performance.
By contributing your ESG data you can gain a competitive advantage by ensuring the investment world has access to the most timely ESG data on your company.
Our approach to ESG investing
With our standardized ESG data points (630+) and analytics (70+) – for 85% of global market cap based on publicly reported company data – we strive to be the industry standard database that reflects official company disclosure on environmental, social, and governance (ESG) metrics.
We believe that company disclosure and standards of reporting on these issues is critical for driving accurate investor information, public discourse, and regulatory guidance.

We also believe that transparency is critical to driving positive outcomes at both a financial and social level.
To this end – for the purposes of company scoring – we do not use, create, or collect data that is not disclosed or publicly available.
As such, we can create a complete line of auditability all the way from documents (such as annual reports), to the company data points in our database, to company scores and fund ratings, which are based on robust fund holdings data.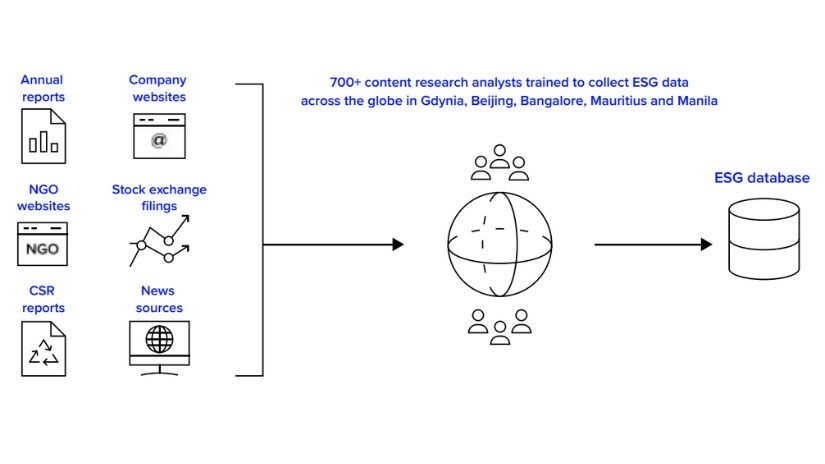 Navigating the sustainable landscape with LSEG
The financial industry is in a powerful position to ensure the sustainability and decarbonisation of economies, but the data and tools market participants use must be fit for purpose.
LSEG is closely involved in shaping and monitoring the EU Sustainable Finance Action Plan and the regulatory implications for the market. We are a member of the UN Technical Expert Group on sustainable finance, advising the European Commission on the agenda and sustainable finance regulation.
Amongst a range of regulatory efforts across the broader sustainable finance agenda, we believe that the three most important and significant regulatory initiatives that will impact the market that we serve are:
Learn more about how LSEG can help you meet the regulator requirements from these initiatives.
What you get with our ESG investing information and solutions
Access quality environmental, social, and governance data, available in point-in-time or non point-in-time format, on tens of thousands of companies worldwide for scoring and ranking.
Compare and benchmark companies with transparent, standardized ESG data points and standardized ESG analytics.
Rapidly measure sustainable investment decisions and support ESG investment applications with our comprehensive ESG indices.
Perform positive and negative screening on criteria such as alcohol, armaments, carbon, and controversies in the media.
As transparency becomes increasingly important, our ESG investing information is an invaluable reference tool for research analysts.
Import raw data straight into Excel effortlessly, and use ready-made templates.