ESG Reporting Solution
User friendly data collection, automated emissions calculations and templated reporting for Corporates.
TCFD reporting requirement
Corporates are under increased pressure to disclose, manage and offset their carbon emissions.
Changing Investor demands, evolving consumer behaviours and regulatory requirements add multiple dimensions for Corporates to consider, and act at speed.
With regulation now demanding Corporates to disclose Scope 3 carbon emissions in a Task Force on Climate-Related Financial Disclosures (TCFD) compliant framework, LSEG can help you discover the requirements, connect you with the right tools to simplify the process and help you achieve the necessary transparency.
Corporate ESG Reporting Solution helps corporates
Our user-friendly interface allows you to input or bulk upload revenue and spend data to initiate calculations of Scope 3 emissions.
Our powerful and transparent methodology calculates the Scope 3 emissions for you, and helps you visualise your emissions in an interactive dashboard.
Based on the calculations, you can generate a templated TCFD-compliant report that can be exported on a click of a button.
Climate disclosure and emissions
The first step of managing your carbon risks, is to understand where you have the exposure across your value chain. Whether it is within your own operations, your services or your wider supply chain.
The Greenhouse Gas (GHG) Protocol provides world's most widely used greenhouse gas accounting standards. The emissions are categorised in three groups, or 'Scopes', that provide coverage of any Corporate's emissions.
Scope 1: Covers direct emissions from Corporate's owned or controlled sources
Scope 2: Covers indirect emissions generated from purchase of utilities (electricity, steam, heating, cooling) for any Corporate.
Scope 3: Cover all indirect emissions that occur across the value chain of any Corporate across their customers and supply chain.
Regulatory frameworks and standards
In 2015, Financial Stability Board (FSB) established the Task Force for Climate-Related Financial Disclosure (TCFD) to provide the industry with consistent disclosure mechanism for Corporates, Banks and Investors.
The TCFD finalised its recommendations in June 2017, and since then the framework proposed by the TCFD is considered as the standard of Corporate disclosure. Countries such as Japan have now passed legislations to regulate Corporates to disclose their emissions using the TCFD framework as the core standard.
More and more countries including Singapore, Indonesia and others have also announced the mandatory reporting requirements approaching.
Corporate carbon challenge
With evolving regulatory demands, increasing investor pressure and increased scrutiny from consumers, Corporates must consider the possible strategy measures that can be undertaken.

Corporates have a certain number of options moving forward, including to:
Evolve nature of business: Exit high Carbon exposure business, change of scope of services or global footprint
Reduce Emissions: Improve their current Carbon profile (reduce carbon emitting activities, direct emissions, and supply chain)
Offset Emissions: Use carbon markets to buy and sell carbon credits – offset their emissions
Incur Potential Penalties: Incur fines and higher taxes for emitting carbon at unsatisfactory levels
LSEG is helping Corporates navigate the complexities of every evolving scenario by helping them discover what sustainable growth means for their business.
We provide data, insights, tools and access to experts that can help you build strategies that work for your business. And through LSEG, we provide access to the right capital & finance that can help Corporates achieve the change they want to see as part of their sustainability ambitions.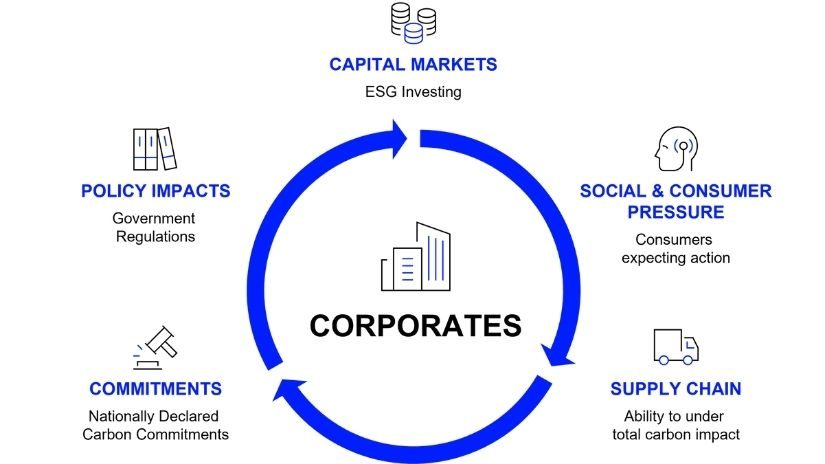 Make your ESG impact known
Manage your ESG data and allow market participants, universities and research firms to view your progress.