Eikon for fixed income trading

Eikon for fixed income trading
Eikon gives you the knowledge, insight, and speed you need to stay ahead with your fixed income investments.
Fixed income with an open, flexible approach
Helping you to perform stronger analysis for the competitive edge.
As well as access to our exclusive news from Reuters, International Financing Review (IFR) insights and unique data sets, one of Eikon's strength is providing transparent market data in an open way.

As an LSEG business, our synergies connect you to sophisticated analytics that enhance this competitive edge. Not only do we boast an unrivalled breadth and depth of data, we are also transparent about our data and where it comes from. Plus, we are not rigid about how data is accessed or used – our datasets and analytics solutions can be accessed through desktop, APIs, and feeds, making it easier for you to integrate into your proprietary solutions.
Eikon's powerful pre-trade capabilities
Eikon's exclusive news and insight includes Reuters Breakingviews, plus essential briefings from International Financing Review (IFR), the most authoritative source for fixed income and capital markets on interest rate swaps.
The possibilities are endless with Eikon. Code directly into proprietary fixed income trading solutions, design data models and perform rapid Python prototyping through our cloud-hosted built-in CodeBook environment.
With Eikon, you get more multilateral trading facility (MTF) data in one location than anywhere else, plus exclusive access to pricing data and consolidated pricing from Tradeweb, ICAP, MarketAxess, Yieldbroker and Markit.
Eikon and Yield Book offer one full solution across data and analytics. Capable of handling complex fixed-income products, Yield Book is a trusted source for in-depth risk analytics, regulatory stress testing and portfolio analysis across global markets.
What you get with Eikon for fixed income
A boost for your fixed income security investments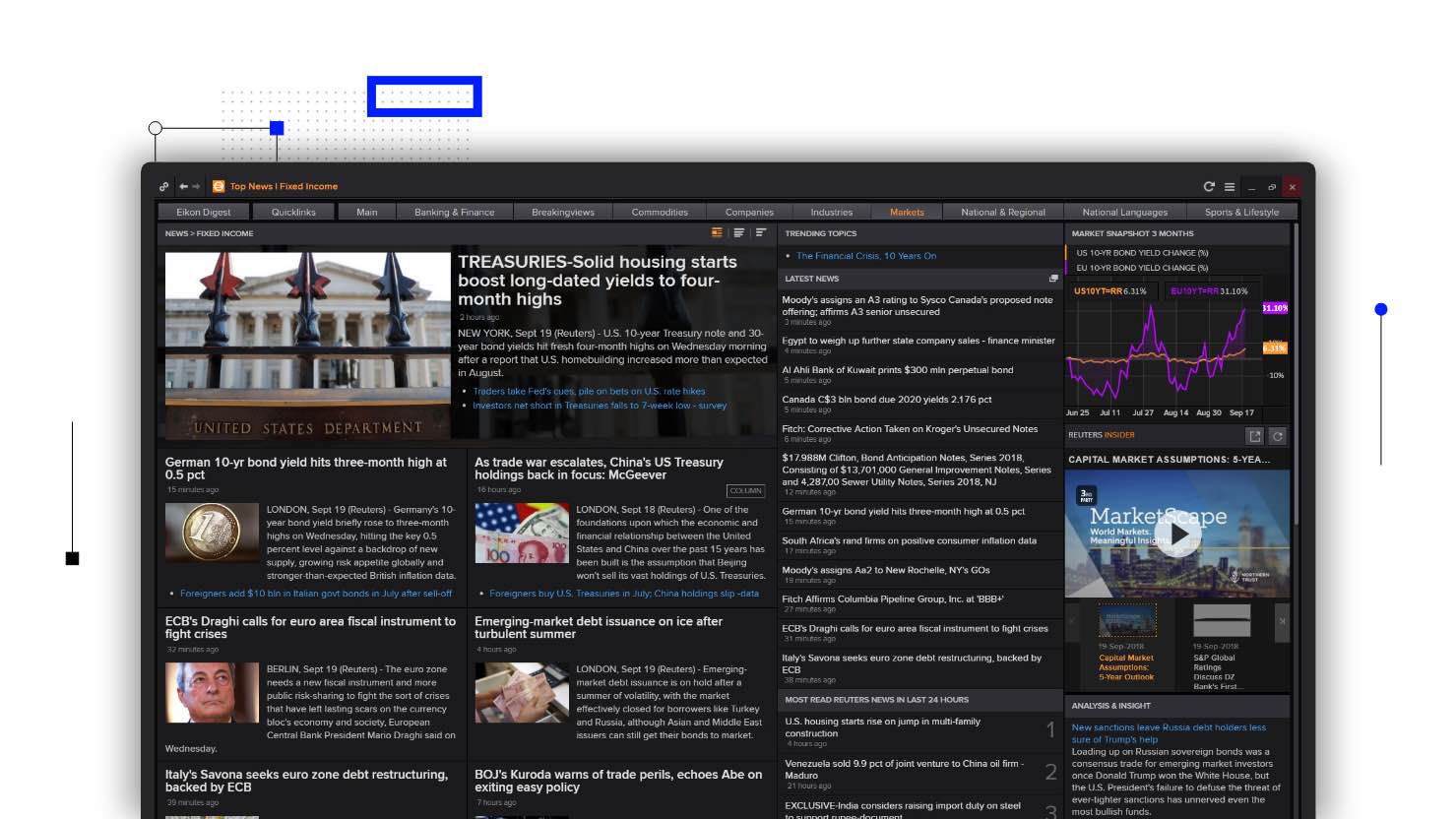 Unbeatable information in a single place.
Eikon's wide range of pre-trade tools helps you sharpen your fixed income price discovery – Reuters news, International Financing Review (IFR), Tradeweb, MarketAxess, single dealer bond data and Markit, plus Starmine CDS data and LPC loan information – all delivered through an innovative desktop and mobile app.
Boost your fixed income security investments by seeing further, knowing earlier, and acting quicker.
An understanding of changes in the rates market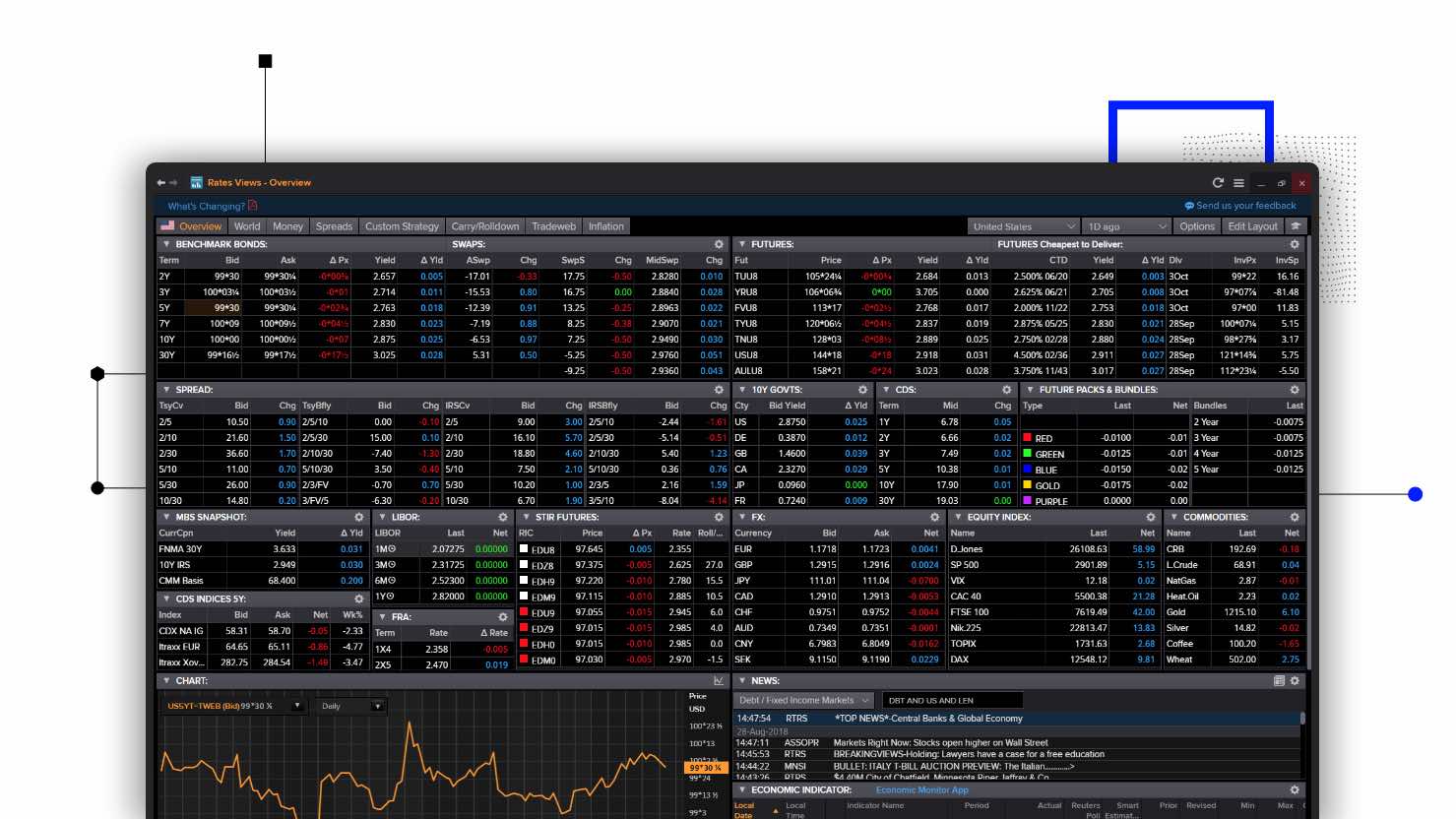 Exceptional rates coverage and tools you can't get anywhere else.
From news to pricing and fixed income market data, Eikon has it all:
Get IFR's forward-looking analysis for critical information on fixed income markets.
Use our G40 Rates View app for fresh trade ideas.
The Libor Transition app keeps you up-to-date with real-time information on the evolving global changes to interest rate benchmarks in all major financial markets.
Intelligent solutions for complex regulations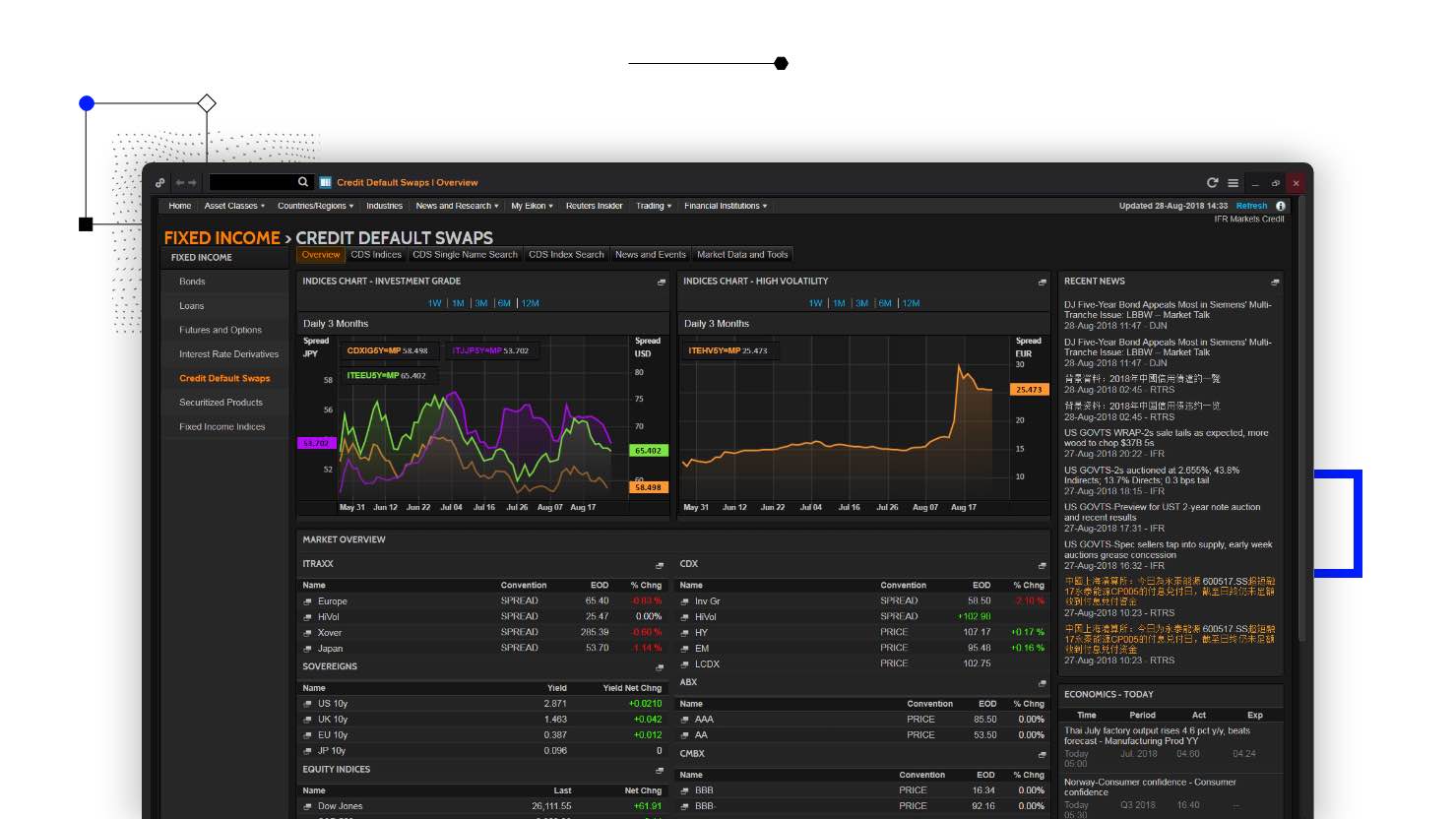 A portfolio-centered, multi-asset pricing system to help you stay compliant.
Eikon helps you tackle MiFID II regulations, address the BASEL III Capital Charge, calculate the credit valuation adjustment (CVA) of your portfolio, comply with IFRS9 requirements, and manage CSA collateral arrangements.
To make sure you're ready for the fixed income securities future, Eikon also delivers reporting for advanced analytics, multi-asset CVA, market-to-market (MtM), profit and loss (P&L) and risk.

LSEG Eikon technical specifications
Take a moment to verify you have all the basics you need to access or run LSEG Eikon on your desktop, or download the app for your mobile device.