Islamic market data
Access LSEG's Islamic Market Data, covering all major Sharia-compliant asset classes, Islamic indices and funds, and an exclusive Islamic finance database.
We are one of the world's leading independent source of intelligent information and data for businesses and professionals operating in the global Islamic finance industry.
Our data covers all major Shariah-compliant asset classes; including sukuk profiles, sharia-screened stocks, Islamic indicies and Islamic funds.
We also provide an exclusive Islamic finance database including over 1,500 Islamic financial institutions data covering $3 trillion Islamic finance assets.
Access market data key to Islamic finance
We provide unrivalled breadth and depth of Islamic market data and market intelligence, covering all major Islamic finance asset classes.
Islamic Finance Overview Page | Available in Eikon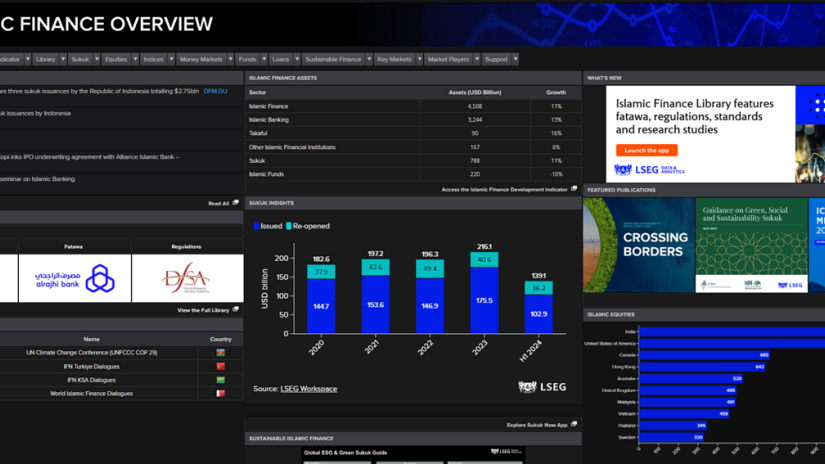 IFOV is our centralised Islamic finance page providing easy access to our full universe of Islamic finance data and content including the below various assets classes including sukuk, equities & indices, money market and Islamic funds.
Islamic Money Market Pages | Available in Eikon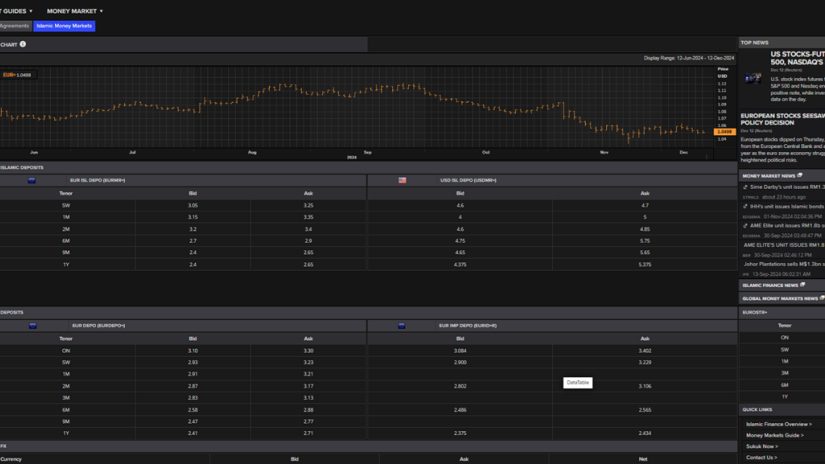 Our data covers the entirety of Islamic money markets such as FX, cross currency rates and short-term Islamic money market instruments, in different currencies and different Islamic structures including Murabaha, Mudarabah, and Wakala money market transactions.
Islamic Securities & Sukuk
Sukuk Now App | Available in Eikon
Get global coverage of Islamic securities/Sukuk with extensive details such as buyers and sellers of Sukuk, most liquid Sukuk, exclusive LSEG Sukuk Indices as well as benchmark issuances.
Islamic Equity Guide | Available in Eikon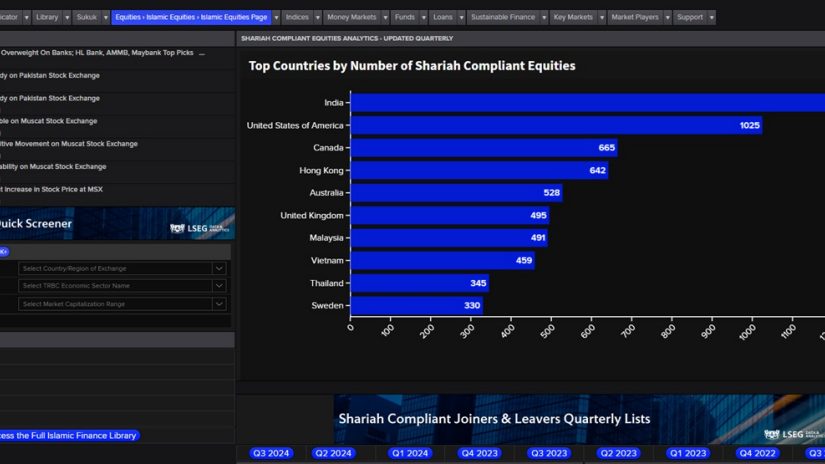 We offer a broad collection of Islamic Equities. Over 30,000 company stocks listed have gone through a precise screening process and more than 9,000 are certified as Shariah compliant.
Islamic Indices Page | Available in Eikon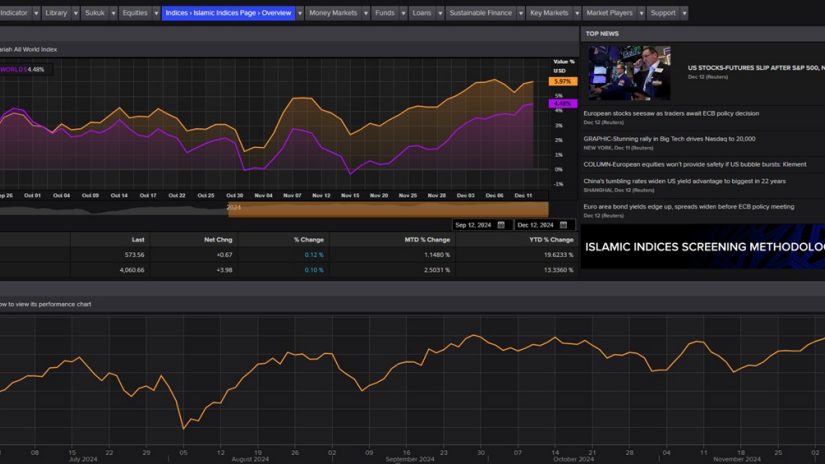 Get access to more than 4,500 Shariah compliant indices, in addition to an extensive list of Islamic investment options, which are sourced from international providers such as Dow Jones, FTSE and MSCI, as well as LSEG / IdealRatings indices. Our data composition also consists of over 600 listed Shariah compliant funds globally.
Sustainable Islamic Finance
Sustainable Islamic Finance App | Available in Eikon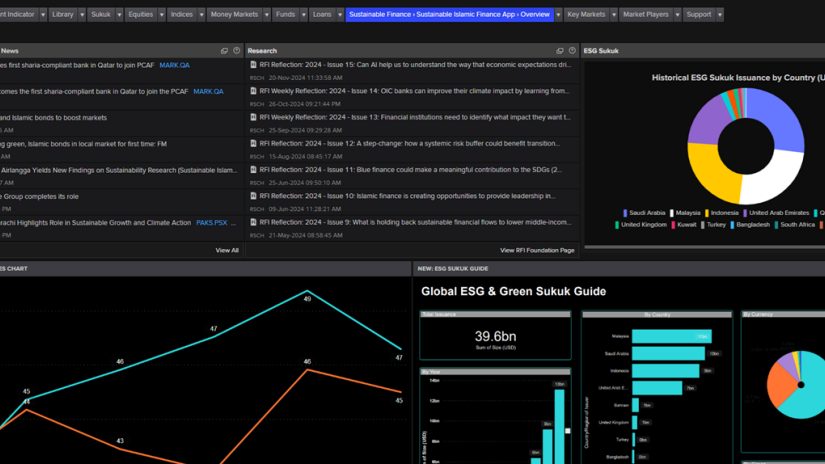 Our Sustainable Islamic Finance App provides an easy access to performance of various Shariah-compliant and Islamic finance asset classes in terms of ESG and sustainability.
Find out which Funds, Equities and Banks ranked highest in ESG scores, performance of sustainability-focused Islamic finance indices and what Green and ESG Sukuk are issued alongside news and reports covering market trends and developments. 
Islamic Finance News | Available in Eikon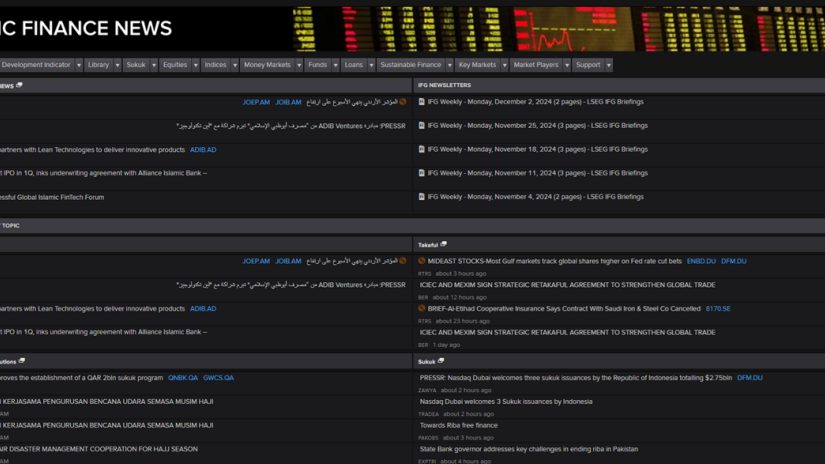 Get the latest Islamic finance news on market development trends and announcements. Our real-time news flow captures the news as it comes in, helping to identify investment opportunities early.  We tag our Islamic finance news making it easily trackable and filterable by topics such as Sukuk, Funds, Equities, Sustainability.
Islamic Finance Documents, Research & Officers
Islamic Finance Library app | Available in Eikon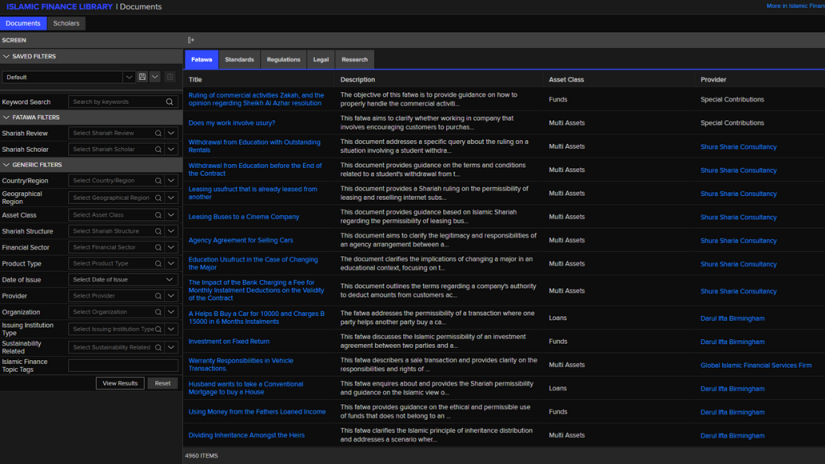 The Islamic Finance Library app offers a comprehensive database of Shariah and Legal content including standards, regulations, fatawa and guidance notes. It is also a depository of Islamic finance research offering a wide selection of reports and studies with advanced filtering capabilities to help users browse, download and share information. Our agreements with renowned partners and providers ensures a constant flow of reports and documents that cover all topics, asset classes and issues in the Islamic finance industry and from around the globe. Additionally, the library features a database of Shariah scholars, their involvements in Shariah boards, sukuk, funds and documents.
What you get with our Islamic financial data
We constantly consolidate, clean, normalise and enrich our Islamic finance data, so you're getting the best information, to make game-changing decisions.
Sukuk instruments data and information
Stocks screened for Shariah compliance
Fatwa on Islamic finance products and transactions

Connect with our specialists
Our specialists will tailor an Islamic market data solution to help solve your specific needs.
Asia Pacific (Sub-Regional)
Australia & Pacific Islands:
+612 8066 2494
China mainland: +86 10 6627 1095
Hong Kong & Macau: +852 3077 5499
India, Bangladesh, Nepal, Maldives & Sri Lanka:
+91 22 6180 7525
Indonesia: +622150960350
Japan: +813 6743 6515
Korea: +822 3478 4303
Malaysia & Brunei: +603 7 724 0502
New Zealand: +64 9913 6203
Philippines: 180 089 094 050 (Globe) or
180 014 410 639 (PLDT)
Singapore and all non-listed ASEAN Countries:
+65 6415 5484
Taiwan: +886 2 7734 4677
Thailand & Laos: +662 844 9576