LIBOR Transition and Replacement Rate solutions
Derived analytics
Look to us to be able to value assets based on new risk-free rates such as FRNs or OIS.
Why choose derived analytics?
Analytics are derived from new Risk Free Rates such as Zero Coupon curves. LSEG provides accurate zero curves bootstrapped from liquid Instruments to project forward payment and discount cashflows. Analytics APIs, bond calculation and swap pricer tools are available in Eikon and Workspace. We have enhanced these tools to support new risk-free rates (overnight compounded in arrears). Customers can use a generic realized rate calculator to calculate cashflows for standard periods and broken dates.

What you get with derived analytics?
All our available zero curves – AUD AONIA, CAD CORRA, CHF SARON, EUR ESTR, GBP SONIA, JPY SONIA, SGD SORA, THB THOR, USD SOFR – are listed in the <RFRZERO> page in EIKON and Workspace.
The new zero curves are exposed in the Swap Pricer (SWPR) app to allow valuations of OTC rates derivatives on the new risk-free rates and OIS discounting using the new curves. We have enhanced the Bond Calculator (BNDC) app to support FRNs issued on new risk-free rates.
Use our compounded rate calculator to compute a rate cashflow between any date range and it incorporates the fixing lags (for example, the five-day lookback period for Sonia) and backward-shift methods.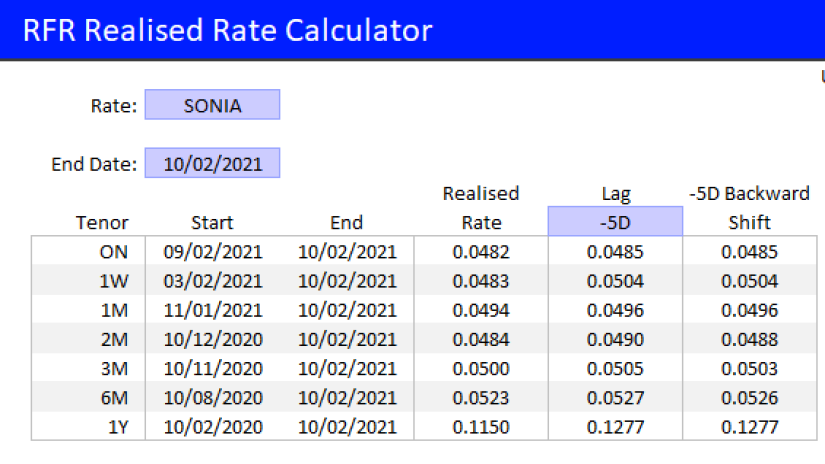 How can derived analytics benefit you?
LSEG is committed to providing you with tools to monitor the Libor transition, assess risks and impacts.
We have improved our Analytics APIs and desktop calculators to help our customers migrate to new risk-free rates.
Users can ingest our Zero Curves on new RFRs to feed their services.
We are your trusted partner, providing you with news, data, tools and analytics underpinned by open platform technology to enable efficient planning and accurate impacts assessments for a seamless LIBOR transition.
Asia Pacific (Sub-Regional)
Australia & Pacific Islands:
+612 8066 2494
China mainland: +86 10 6627 1095
Hong Kong & Macau: +852 3077 5499
India, Bangladesh, Nepal, Maldives & Sri Lanka:
+91 22 6180 7525
Indonesia: +622150960350
Japan: +813 6743 6515
Korea: +822 3478 4303
Malaysia & Brunei: +603 7 724 0502
New Zealand: +64 9913 6203
Philippines: 180 089 094 050 (Globe) or
180 014 410 639 (PLDT)
Singapore and all non-listed ASEAN Countries:
+65 6415 5484
Taiwan: +886 2 7734 4677
Thailand & Laos: +662 844 9576