LIBOR Transition and Replacement Rate solutions
ISDA Fallback rates
LSEG is an authorized distributor for ISDA IBOR Benchmark Fallback rates on its products.
ISDA Fallback rates play a pivotal role for OTC Derivatives within the LIBOR transition and wider IBORs reform
ISDA Fallback rates are relevant to derivatives trades referencing a specific IBOR and play a key role in the event of a permanent cessation of that interbank offered rate (IBOR). Specific fallback rates are set out in the 2006 ISDA Definitions. ISDA released robust Fallback rates that would apply in the event of a permanent cessation of a key interbank offered rate (IBOR).
What are ISDA Fallback rates?
More than $350 trillion worth of financial instruments reference LIBOR – the benchmark that is expected to cease at the end of 2021. Current financial contracts documentation does not include the relevant language to cover the end of a benchmark. So, as LIBOR ends, contracts will not have a new rate to fall back on or rely on. But the new available ISDA protocol and its adoption enable a fallback rate to be inserted, covering the move out from LIBOR or any other benchmark.
LSEG has made ISDA Fallback rates available in Eikon and across all platforms
LSEG has supported the ISDA IBOR Fallbacks available across all services since November 6, 2020, including the adjusted risk-free rate RFR that is compounded in arrears and the spread adjustment rate. We also support the IBOR fallback rate for the following IBORs: the Australian dollar bank bill swap rate (BBSW), the Canadian Dollar Offered Rate (CDOR), Swiss franc LIBOR, EURIBOR, euro LIBOR, sterling LIBOR, HIBOR, euro-yen TIBOR, yen LIBOR, TIBOR and US dollar. We provide access to all ISDA fallback rates, covering the following IBORs:
the Australian dollar bank bill swap rate (BBSW)
the Canadian Dollar Offered Rate (CDOR)
Swiss Franc LIBOR
EURIBOR
Euro LIBOR
Sterling LIBOR
Hong Kong Interbank Offered Rate (HIBOR)
Euroyen TIBOR
Yen LIBOR
Tokyo Interbank Offered Rate (TIBOR)
USD LIBOR
You can view the ISDA Fallbacks on the IBOR app.
LSEG is an authorised redistributor of ISDA IBOR Fallback rates on its products. Products include Eikon/Refinitiv Workspace, RKD, LSEG Datastream®, LSEG Real-Time - Optimized, LSEG DataScope Select and LSEG Tick History. To become permissioned, contact us or get in touch with your LSEG Account Manager. LSEG supports all the same real-time data and historical rates with the same commercial set-up.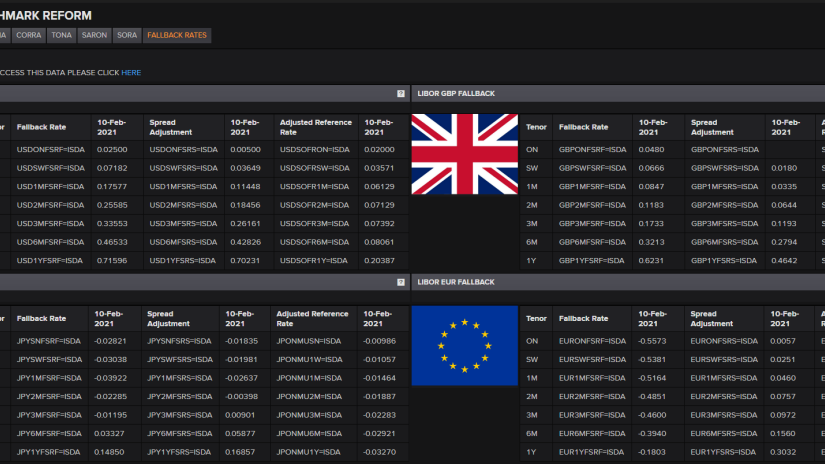 Access ISDA Fallback rates via LSEG
ISDA Fallback rates are available across all LSEG desktop and data feeds services. Search for <IBOR>  in Eikon to access all relevant data
How can ISDA Fallback rates benefit you?
LSEG is committed to providing you with tools to monitor the Libor transition, assess risks and impacts
LSEG is undertaking a range of proactive changes and is able to deliver the data, news, expertise and analytics needed for a smooth transition.
The data you need is delivered when you need it. ISDA Fallback Rates are available across all LSEG services. 24-hour delayed data is available, but also requires permissioning (free of charge until cessation date)
The ISDA Fallback Rates will be free of charge for now, for standard use cases
Asia Pacific (Sub-Regional)
Australia & Pacific Islands:
+612 8066 2494
China mainland: +86 10 6627 1095
Hong Kong & Macau: +852 3077 5499
India, Bangladesh, Nepal, Maldives & Sri Lanka:
+91 22 6180 7525
Indonesia: +622150960350
Japan: +813 6743 6515
Korea: +822 3478 4303
Malaysia & Brunei: +603 7 724 0502
New Zealand: +64 9913 6203
Philippines: 180 089 094 050 (Globe) or
180 014 410 639 (PLDT)
Singapore and all non-listed ASEAN Countries:
+65 6415 5484
Taiwan: +886 2 7734 4677
Thailand & Laos: +662 844 9576