Eikon for equities trading
Eikon for equities trading
Eikon allows you to make fully informed equity trading decisions through its comprehensive and unique news, data, analytics and insight.
Quite simply, be informed
Trade while knowing what's happening in the world.
Whether it's qualitative news-based insight, exclusive access to Reuters news, less traditional social media sentiment, or pre-determined stock-level quantitative data, LSEG Eikon gives you information you can act on.
With Eikon, you get a transparent oversight of value chains, from suppliers to customers through to estimates, sector, peer and index analysis; plus the ability to leverage real-time granular insights across all manner of data sets, ranging from fixed income to commodities.
With all of this information in one place, you can integrate these insights into your equity trading workflows using code-friendly solutions – making it easier to spot opportunity and gain the competitive edge.
Giving you powerful pre-trade capabilities
Be the first. Eikon gives you access to breaking news and exclusive content from the world's leading and most trusted news organisation, Reuters, not to mention over 10,500 other sources.
Code directly into your proprietary trading solutions, design your own data models and perform rapid prototyping using Python through our cloud-based, built-in development environment, Codebook.
Get sophisticated analyses of equity markets, plus hot stocks and sectors coverage, by combining the breadth of Reuters news with the idea generation capabilities of Eikon's analytical tools.
What you get with Eikon for equities trading
The right tools for discovering liquidity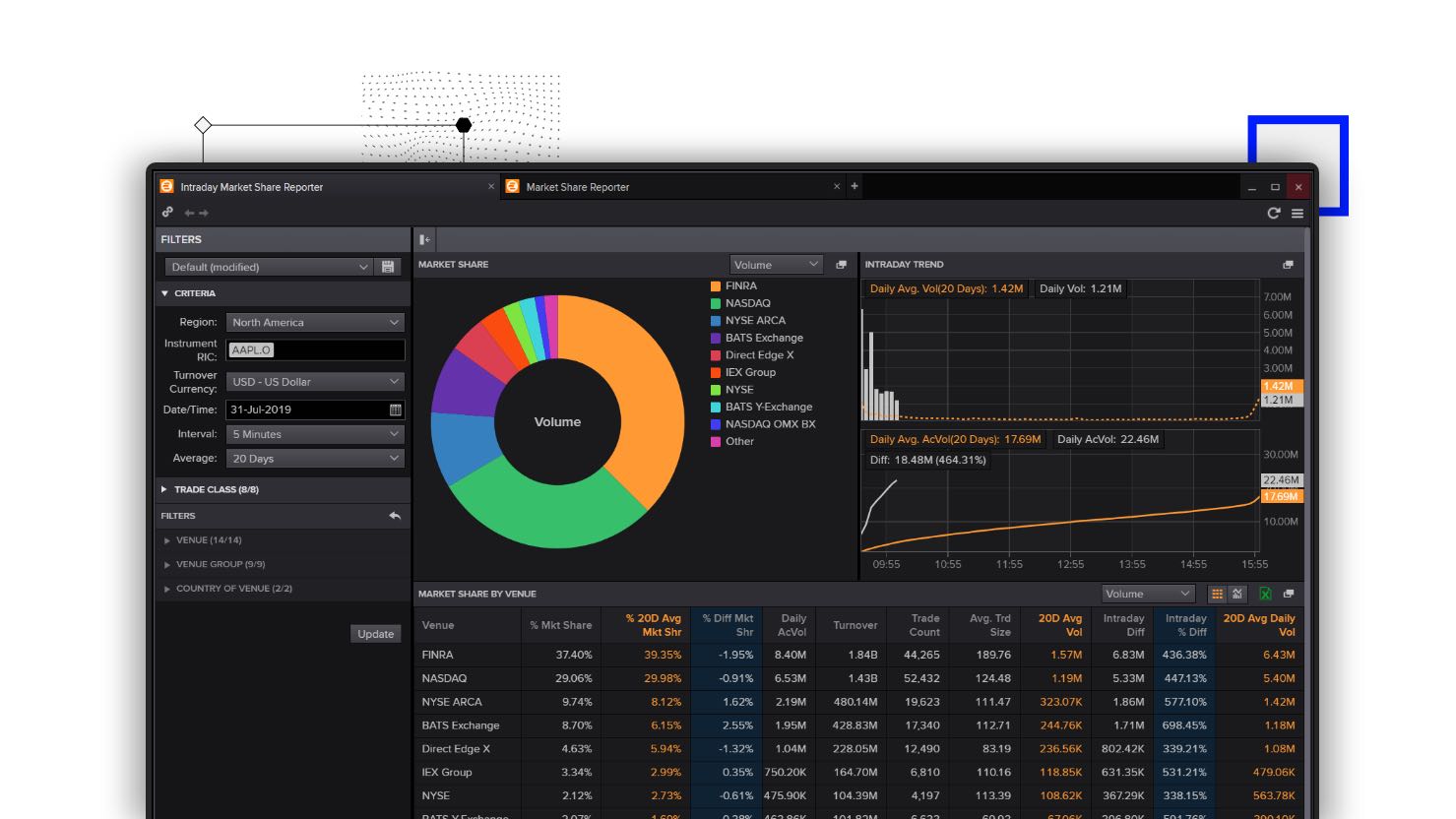 Eikon lets you find and analyse the liquidity for the stock that you're trading easily, across multiple venues.
Access a summary of intraday volume, turnover and trade count across venues compared with a customizable selection of daily averages.
The ability to stay one step ahead of unusual market moves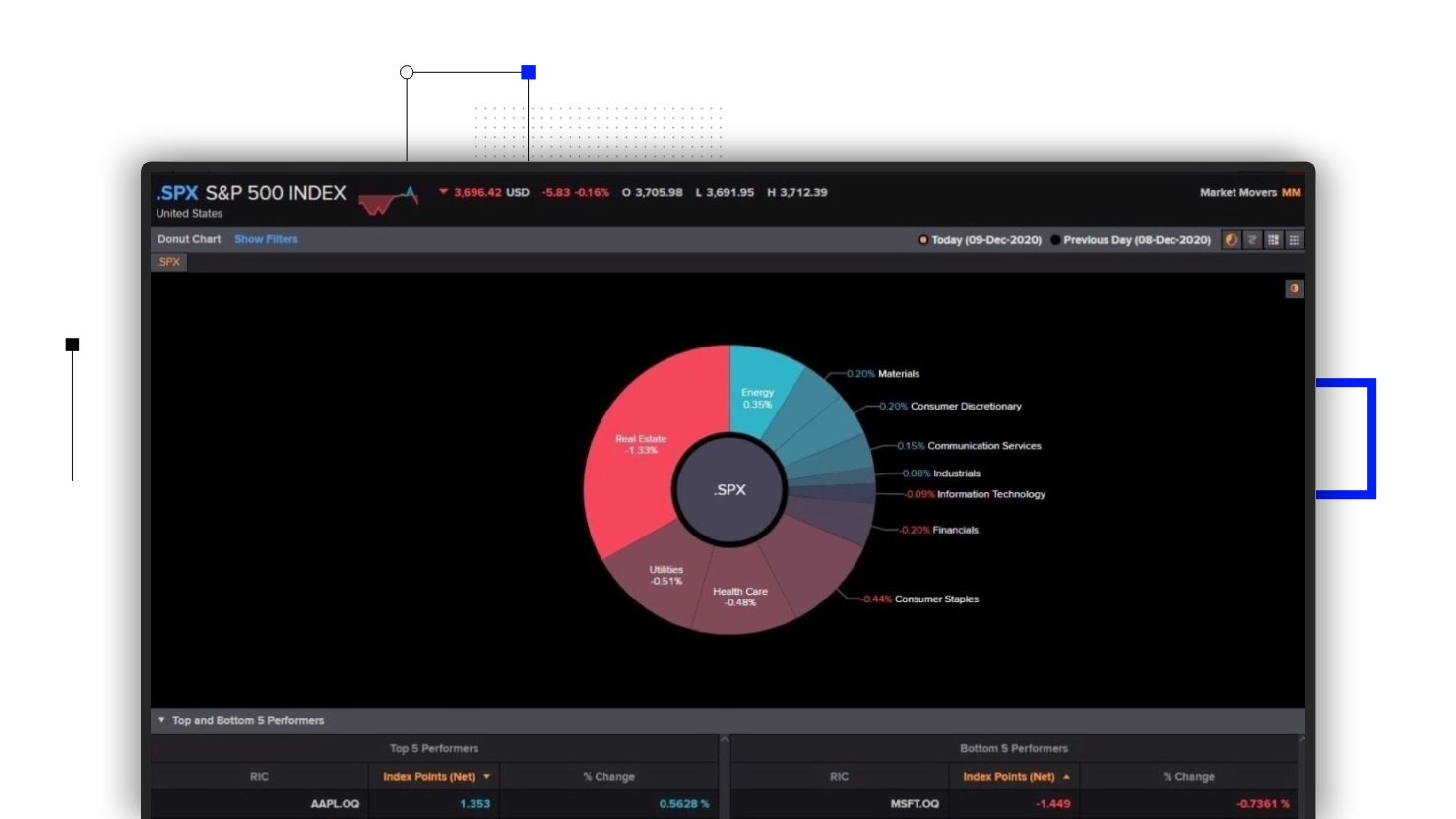 Eikon's flexible, real-time intraday monitoring tools deliver more accurate and reliable unusual price movement alerts for single and multiple stocks or wider market moves.
You can also access our market movement heatmaps and track by index, sector and individual stocks – including everything from divergence in intraday volume patterns through to related derivative performance at a large scale.
Tools to help you predict future earnings and analyst revisions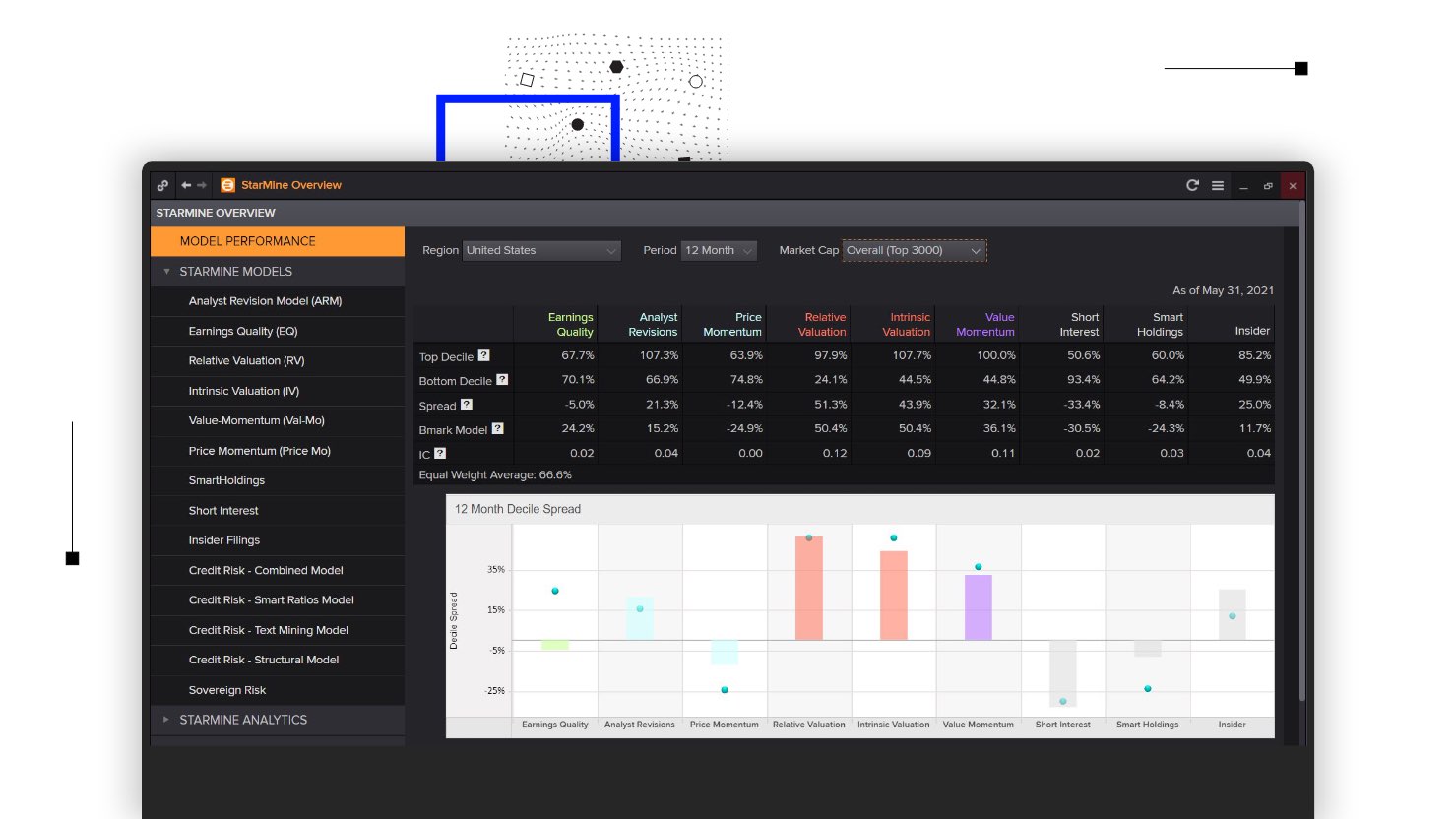 Eikon gives you the power to identify opportunities, save time and zero-in on the most viable investment ideas with LSEG StarMine.
Our suite of quantitative analytics and models covers critical areas including value, momentum, ownership, risk and quality.

LSEG Eikon technical specifications
Take a moment to verify you have all the basics you need to access or run LSEG Eikon on your desktop, or download the app for your mobile device.